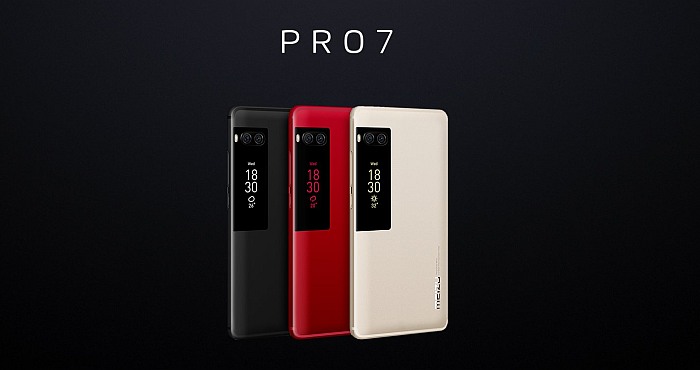 In first picking up the Meizu Pro 7 Plus, you will immediately notice that it feels incredibly well built. The materials of choice are behind that premium feeling, even if it sounds a bit cliché. The unibody is made of aluminum and it feels much softer than you might think it would. However, it is sleek and strong at the same time.
For color options, you will be able to choose from silver, gold, matte black and even space black. A smaller version of the Pro 7 is even available in bright red. The antenna curves around both the top and bottom and you will hardly even notice that it is there. The entire device feels as if it were one single piece.
If you are considering the Pro 7, it is worth noting up front that there is no water protection or dust protection included. A quite controversial characteristic of this company's smartphones is the fact that the navigation configuration is all single key. In other words, you press the button to go home and you press the same button to go back. If multitasking is something you are going to be doing, you can do so by simply swiping up from either side of the bezel on the bottom.
The Pro 7 display is gem at 5.7 inches with a Quad HD Super AMOLED. While the Pro 6 has an extraordinary display, the Pro 7 is definitely better. The reproduction of color is wonderful and readability in the sunlight is good as well.
The standout feature of the Pro 7 Plus is definitely the secondary display. This display is situated at the top left in the back of the handset and covers a fairly good amount of area underneath the camera. In itself, it is a 1.9 inch 240×536 AMOLED panel.
The Pro 7 Plus features a 10nm deca-core MediaTek Heloi X30 processor, 6GB of RAM and UFS 2.1 storage. The software is optimized nicely as well. Two different SIM cards can be used and since the phone is unlocked out of the box, you are not restricted to any particular carrier. Even so, in the United States, the Pro 7 Plus is incompatible with the 4G LTE networks.
Internal storage is an impressive 64GB, but there is also a model that features 128GB of internal storage. Another impressive feature is the 3,400-mAh battery, which is quite strong. Even with moderate usage, reviewers got almost six hours of screen time.